On 21 December 2009, the Board of Abattoir S.A. decided to add to its commercial activities the concern for socio-cultural activities as well on its site, in the centre of Cureghem quarter. A new ASBL (non-profit organization) was therefore created in view of a better integration of the site in a convivial, multi-cultural Cureghem.
Just like any other child, our newly born association also got a name: Cultureghem, a combination of Culture and Cureghem, the French name and spelling for the city quarter called "Kuregem". It is the association's objective to go and live its own life after a while, disconnected from Abattoir, as it was the case with Euclides e.g., a business centre also created at the initiative of Abattoir at the time.
Since 2012, Cultureghem has taken quite a fast start, mostly thanks to Eva De Baerdemaecker. An impressive number of activities have been realized or are being planned.
For more information, please turn to Eva. You'll find her coordinates herewith.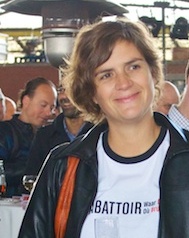 Contact person : Miss Eva De Baerdemaeker, phone +32 (0)2 556 11 94 - e-mail : eva@cultureghem.be
Internetsite : WWW.CULTUREGHEM.BE