For many years already, Abattoir maintains a policy in terms of waste management that goes way beyond of what could be considered its "standard" obligations. Special attention is given to prevention and awareness creation with all the traders active on our market grounds. Recycling and re-use of materials in order to avoid them being brought to the dumping grounds are essential.
To be in line with our goals set in 2008, namely to reduce waste burning by 50%, we have taken new initiatives within our own company to further reduce waste at earlier stages in the selling process and hence reduce our total impact on the environment.
Some of the initiatives taken since 2008:
The creation of a charter for cleanliness and respect for the environment: an interprofessional agreement aiming at the respect for the environment and cleanliness on the Anderlecht slaughterhouses and market grounds (a protocol that engages ambulant traders towards Abattoir SA).
Introduction of a green bonus-malus: the objective is to reward traders for their respect for the environment, and to "punish" those who don't show any respect. The bonus of the first is funded by the malus of the latter.
Installation of a sorting spot: recuperation and sorting of waste coming from our general markets before it is being taken to processing centres (cardboard, green waste, pallets, etc.)
Creation of a control and prevention team: every weekend, a team of 8 people informs traders about waste prevention and inspects the trading-places.
A street cleaning policy:  Abattoir calls upon a specialized green team (Manus). The cost of their intervention is fully paid by Abattoir
Event
Parallel to all this, Abattoir also organizes all sorts of  cleanliness and durability events with the objective of developping a common pedagogy together with all actors involved (companies, the commune, associations, quarter committees, the police, etc.).
Some figures:
Non-recyclable waste (in tonnes). Incinerated.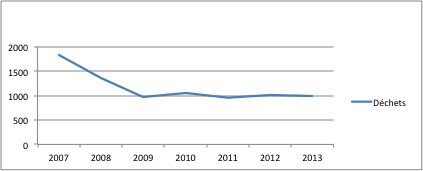 Paper and cardboard (in tonnes). Treated by "Oud Papier" (Josef Michel).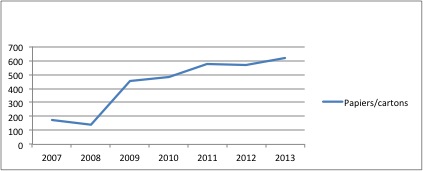 Green waste (in tonnes). Treated by Vanheede.