Slaughterhouses in the city
A slaughterhouse in Cureghem, a densely populated part of the capital, is this wise, is this possible or let's say reasonable? What are the pros and cons, what is the rationale behind and what does the future look like, ...?
Aspirant architects on our site 
The 'Unité 21 de la Faculté Architecture La Cambre-Horta' of the free Brussels Universtity (ULB) have been working on our site for three years now. Last year students have formed a kind of working group that is helping us making reflections about our future (our Abatan 2020 project). The reflections go all the way and touch such aspects like social, moral, functional and professional features. Of course, architectural aspects are being discussed as well : contrasting points of view such as big versus Small, open versus closed, public or private, folklore or voyeurism, … It is a passionate debate that Abatan is certainly not trying to go out of the way, on the contrary.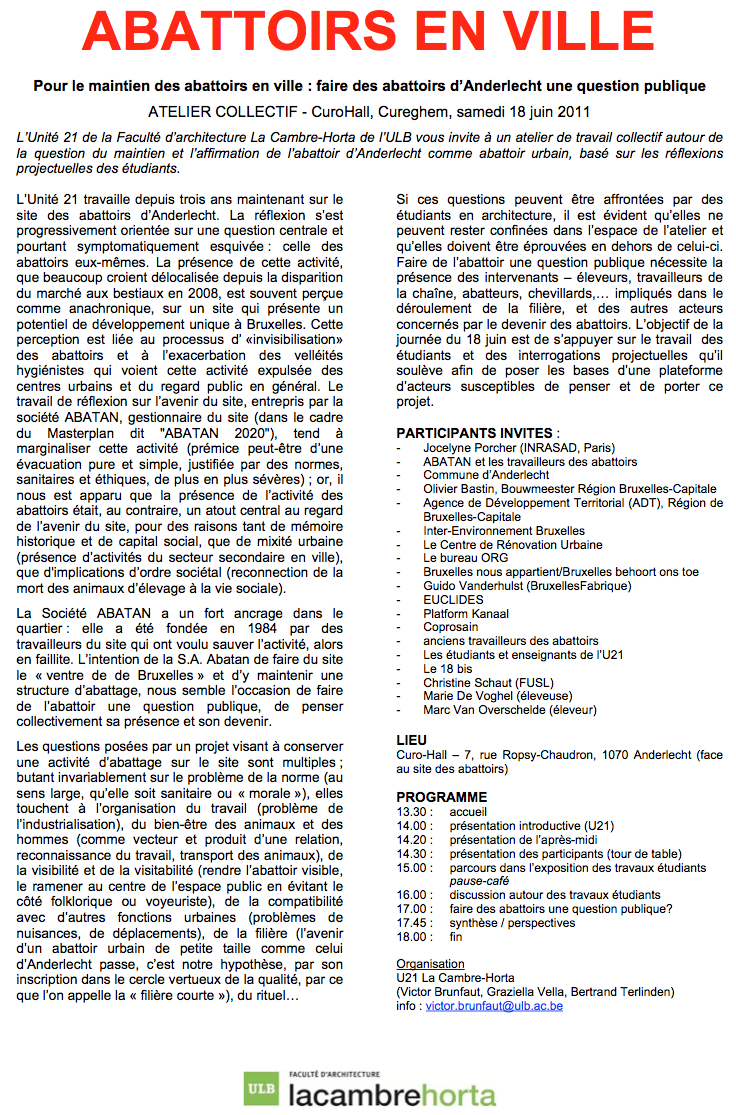 On 18th June, this 'Unité 21 de la Faculté Architecture La Cambre-Horta'' have organized a working session on this subject, whether slaughterhouses belong in the city. The document herewith, unfortunately only available in French (our apologies),can be downloaded. For more information about this subject you can always get in touch with victor.brunfaut@ulb.ac.be or call our secrétariat.