Ban on plastic bags on our markets
The Brussels Parliament has recently held a debate about the ban on plastic throw-away bags in the Brussels Region. To be honest, we are a bit proud to say that this debate was instigated in Anderlecht. And what do we see now ... In 2016 Abattoir will be the first market in Belgium to ban the plastic bags...
Some two years ago, the Alderman in charge of cleanliness, Ms Elke Roex, called upon us. Indeed, the countless plastic bags flying around in the streets were cause of quite some anger. With the support of the Brussels Institute for Environmental Care, a survey of the  use of plastic bags on market places was set up.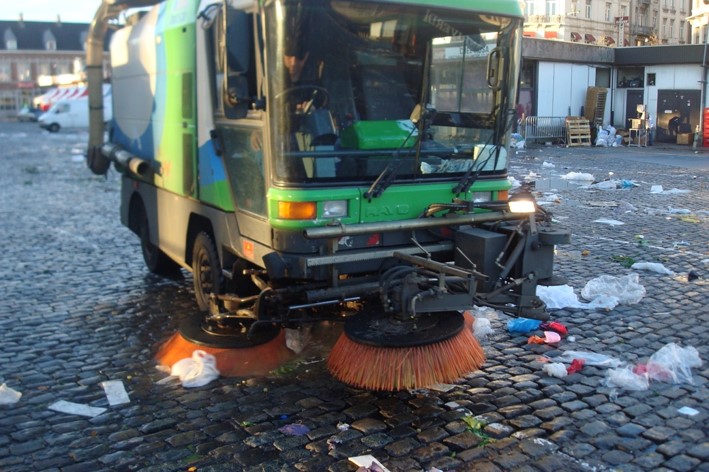 In 2014, an overall study was carried out on how plastic bags were used and what the possible alternatives were. The commune of Saint Gilles was also involved in this study, because some practical knowledge was considered to be indispensable. It was no lesser person than Mohamed Ibrir, in charge of cleanliness at the Abattoir site, who saw this unique opportunity to start reducing the enormous amount of waste.
On the Paris market of "Saint Denis", we had discovered an interesting formula of "bagless market". Once the study of this formula completed, it was decided to first focus on the traders rather than immediately attacking the consumers' behaviour. To our own surprise, the traders appeared to be the first to ask for doing something against the use of these plastic bags, which seem to cost them quite a lot of money. In 2015, some concrete measures were taken together with the traders. Simply by making them feel responsible, the number of plastic bags decreased considerably. Customers were no longer pushed to use plastic bags, on the contrary. The bags were banned towards the back of the stalls, out of the customers' sight. The impact was immediate, but there was room for improvement.
2016 The year of the break-through !
Since the month of January of this year, the use of bags is no longer allowed on our markets. This ban will be introduced gradually, by category of products. The product calendar for these bans looks as follows:
•    1 January 2016 : Plants and brocante
•    1 February 2016 : Electrical and household appliances
•    1 Mach 2016 : Textíles
•    1 May 2016 : Dry food (biscuits, dried fruit, cold cuts, ...)
•    1 July 2016 : Vegetables and fruit
In doing so, Abattoir tries to actively contribute to a clean community and a considerable reduction of the amount of waste. The consumer is asked to contribute too, by using bags and troleys of their own when they come shopping to our markets. In the coming weeks, we will start selling cotton net bags which take little place and are easy to re-use.
Hereunder you can find an overview of all our 2016 activities in this context. We thank you for your understanding and support.