Fruit and vegetables traders last in row for ban on plastic bags
As last category, fruit and vegetable traders will also have to abide by the new regulation as of next 1 September. For all other categories of traders, the ban on plastic throw-away bags was already applicable. At a traders' meeting on Tuesday 31 May, it was decided to postpone fruit and vegetables from 1 July until 1 September. A re-usable shopping-bag with an Abattoir design will be distributed on our markets at the start of the new school year, when the plastic bags will have finally disappeared. With this civil initiative we want to strive for an environmentally friendly future!
Last weekend we started with the distribution of a memo to our markets' visitors. Informing and making people feel responsible in due time is part of the total plan. The ban is being introduced gradually, per product category. One of the overall objectives is to reduce the hindrance they create for the people living in the market's neighbourhood. Most of our customers are in full understanding of this measure.
For reasons of hygiene, the measure is not applicable to meat traders and fish mongers.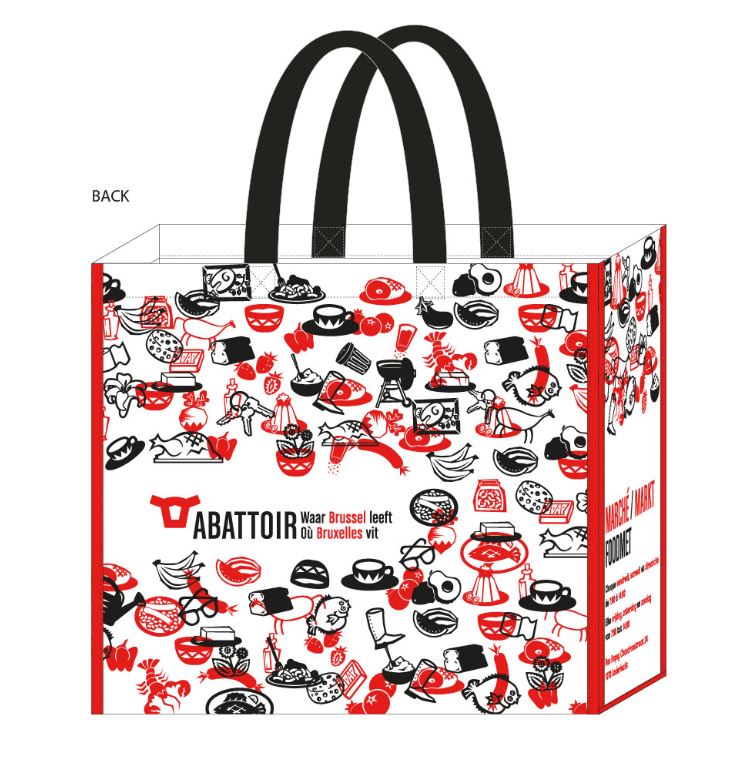 The ban measure has been approved on both local and regional levels. The commune of Anderlecht is the first Brussels commune to start on 1 September 2016. Under the impulse of Brussels Minister Fremault, the Brussels government will introduce the measure as of 1 September 2017. Thus, the ban will soon be valid for all Brussels markets.
The Minister describes this as follows:
" At the start of this legislation in the summer of 2014, I have stressed the importance of the quality of life notion for the Brussels citizens. The fact that our Region's inhabitants can live in a healthy environment and stay in good health is not a luxury, but a necessity! Only recently, I have realized a couple of important matters of which I am convinced that they will have a positive impact on our everyday lives. This goes a step beyond the general policy declaration:
PLASTIC BAGS
The forecast is that in 2050, there will be more plastic than fish in our oceans.  Saying this, we should not forget about the pollution created at their very production. And the alternatives are absolutely there. In order to encourage what must become an inevitable change in attitude, the Brussels government have accepted my proposal for a total ban on plastic bags distributed at the cash registers. All other types of (very light) plastic bags will be banned one year later. Of course, a regional guidance will be set up to avoid traders and/or customers to be fined."