Atrium and Abattoir examine composting feasibility
Atrium's mission is to stimulate commercial and trade activity in city districts and wants to work together with Abattoir in order to reduce and reuse a maximum of waste left behind at the end of a market day. This initiative proved to be successful because thanks to this contest, Atrium Cureghem was granted with a subsidy of € 12,000
Atrium and Abattoir examine composting feasibility
Brussels Waste Network (BWN) is a network of waste advisors for companies in the Brussels Capital Region. This programme is a partnership between BECI, Brussels Environment and the Cabinet of the Minister of Environment of the Brussels Capital Region. The network's purpose is to help Brussels companies  to improve their waste prevention and management and thus reduce their impact on the environment.  To put this into practice, BWN has launched project calls upon which Atrium introduced a dossier and got elected as one of the winners, resulting in financial and methodological support from the Region.
What are this dossier's contents like?
Atrium's mission is to stimulate commercial and trade activity in city districts and wants to work together with Abattoir in order to reduce and reuse a maximum of waste left behind at the end of a market day. This initiative proved to be successful because thanks to this contest, Atrium Cureghem was granted with a subsidy of € 12,000. This budget will be used for funding the aforementioned feasibility study.
The project foresees in the installation of a fast composting machine on the Abattoir site. The study focuses on the technical, economical and logistical aspects when implementing such an installation. The study will have to show whether it is profitable to keep this composting installation operational. If so, Abattoir together with some other players from the vicinity will start this fast composting activity in the very near future, without any smell hindrance. By doing so, Abattoir will be able to produce compost for its future Urban Farm and for other agricultural companies in and around Brussels.
Anyhow, this study will learn us how such an installation can be fitted into a city area and what the economical advantages are for all players involved in the Brussels Region.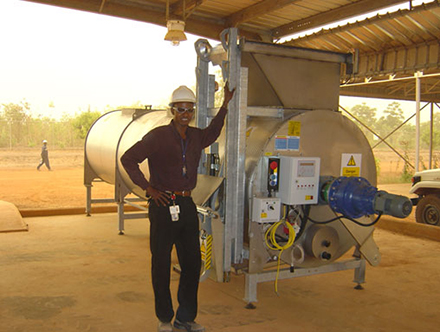 Picture: The A1200 Rocket® composter (www.tidyplanet.co.uk)